This is the weekend for the full-on bathroom demo, and last weekend we put the kitchen to rights before the dinner party. We've got a nice work station now. The bottom shelf has hooks for pans: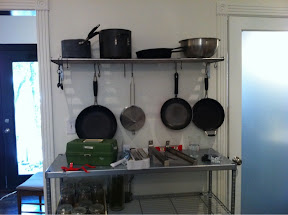 The top shelf I stained myself, to match the floors:
We hung another of the floor-shelves over the door between the kitchen and the laundry: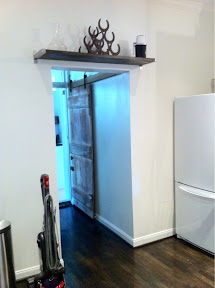 It looks to me like a very appealing place for a kitty. Luckily they have yet to figure out the counter to fridge to shelf program, but when they do...
We also tricked out the china cabinet with cup hooks. Yes, I am excited about the cup hooks: